presenting the exhibitions
Ivana Šáteková - Everyday Sexism
The exhibition
Everyday Sexism
by Slovak artist Ivana Šáteková shows situations that women in our society face on daily basis. Comments regarding their appearance, maternity, behavior or means of expression accompany women from childhood to the old age. These comments often take the form of seemingly innocent and well-meaning questions. The exhibition focuses on stereotypes about women and reveals hidden sexism and ageism – i.e. prejudices and discrimination based on one's sex and age.
Drawings of girls and women are supplemented with questions: Shouldn't she be eating less? You haven't been kissing with anyone yet? Shouldn't you have a baby already? You want to work? Shouldn't you take care of the child? Does it pay off to remodel your apartment in your age?
The questions bespeak common ideas about how a "real woman" should behave. But many of them are based on stereotypes, which are repeated and reinforced by repetition. These stereotypes then lead to discrimination. If we want to get out of this vicious circle of discrimination and prejudice, it is important to realize that these are sexist remarks and stop perceiving them as normal, even if they are ubiquitous.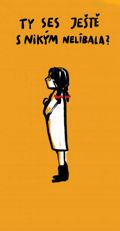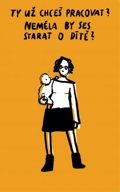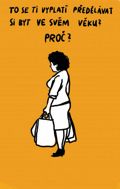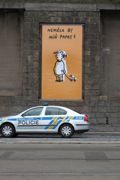 About the artist:
Ivana Šáteková (* 1984) is a graduate of the Academy of Fine Arts and Design in Bratislava. In 2013 she became a finalist of the Essl Art Award, and in 2014 she was awarded the Tatra Bank Foundation Award. In her work she often uses paintings and drawings inspired by comics and photographs found in books or on the Internet, but she also works with other media (embroidery, object, interactive installations). She is a member of the Dzive trio.
Curators:
Lenka Kukurová, Zuzana Štefková
Photo of the exhibition at Artwall:
Martin Micka
The project was organized in cooperation with Nesehnutí.
See more at
www.artwallgallery.cz
---
Martina Mullaney -
Usually She Is Disappointed
The exhibition
Usually She is Disappointed
by Irish artist Martina Mullaney borrows its title from the radical feminist manifesto, Dialectic of Sex, by Shulamith Firestone. By means of low-res photographs it looks at motherhood, feminism, politics, and the world of work after children. In this series, Martina Mullaney adopted a 'kitchen table' aesthetic. She re-photographed and appropriated images from academic books, borrowed images from her Facebook feed and other Facebook users, all mothers. The exhibition is a selection from more than 200 images and concentrates on the figure of the Missing Mother in the (art)world.
Martina Mullaney sees continuity between her life and work as natural, producing performance pieces that embody the personal-political maxim of the feminist movement. She seeks to critique the forced invisibility of mothers devising solidarity as a practical tool of resistance. This performative technique can take the form of live actions, discussions or the dissemination of images produced by marginalised maternal subjects. Using social media helped Mullaney to further disseminate critique of the neoliberal system that renders care associated with motherhood and (art) career mutually exclusive.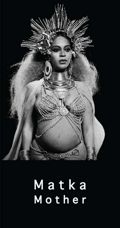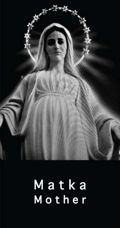 About the Artist:
In 2009, Martina Mullaney initiated an art/life project titled
Enemies of Good Art
– the title is borrowed from the infamous quote by a British writer Cyril Connolly who in 1938 stated that "There is no more sombre enemy of good art than the pram in the hall". Inspired by her maternal experience that made her a temporary outcast from the art community, Mullaney started an activist platform that soon spanned to include actions in galleries, discussions (where children are welcome), and interviews regarding art and motherhood. These activities – most of them published online – strived to instigate a change of approach on the part of the British art institutions toward children and to stop the discrimination of parents and especially mothers within the art world.
Interview with the artist:
Link/Source
Curators:
Zuzana Štefková, Lenka Kukurová
Photo of the exhibition at Artwall:
Martin Micka
The exhibition was organised as part of Fotograf Festival #8.
See more at
www.artwallgallery.cz
---
Lidija Mirković - Dialog with Carmen
In this extensive photographic series, the artist deconstructs stereotypization of Roma women in order to present the viewer with images produced from within the lived Roma experience rather than about it.
In collaboration with photographer Dragan Vildovic, Lidija Mirković, Serbian Gypsy artist – as she calls herself – seeks to analyse this cliché and presents the viewer with images produced from within the lived Roma experience rather than about it. The artist moved to Belville, the largest "Gypsy" slum in Belgrade and asked local women to pose holding a naïve style painting of Carmen. Mirković left upon their decision if they would show their faces or not. The majority decided not to.
In her photos Mirković debunked the stereotype regarding Roma women in order to regain the sovereignty of interpreting her own culture. These women are without exception poor but they do not ask the viewer to pity them. Their faces are covered by a mask forced upon them by romanticised Gypsy kitsch, yet they distance themselves from it. They exude an air of solemn dignity and silent defiance.
The series was produced in Serbia but could have been shot in the ghettos of the Czech Republic with Czech Romani women. Horrible living conditions that many Roma people suffer from are ubiquitous around the whole Europe. Yet in spite of this, the artist sees a chance for mutual coexistence: "The audience ought to look behind national or cultural borders and see the basic dimensions of human existence, which bind us together as human beings."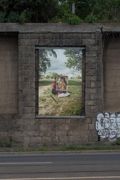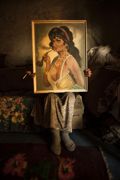 Interview with the artist:
Link/Source
Curators:
Lenka Kukurová, Zuzana Štefková
Photo of the exhibition at Artwall:
Martin Micka
See more at
www.artwallgallery.cz
---
Michelle Adlerová - Through Upbringing To Nature
in collaboration with Michaela Škvrňáková
How are gender behaviour patterns reflected in the body language of men and women? Why do we sit the way we usually do? Is it an outcome of some anatomical dispositions? An urge to send out different signals? Is it because of our upbringing?
Michelle Adlerová offers a paradoxical answer: We are brought up to act "naturally". Since our childhood we get accustomed to perceiving certain movements and postures as "female," while others are subconsciously regarded as "male". Patterns of behavior that seem natural to us are nevertheless learned and then strengthen by constant repetition.
Michelle Adler and Michaela Škvrňáková photographed men and women in postures, in which they typically sit: women in the "closed" position, men in the "open" position. They are seated on a tram seat, just like many viewers passing around the Artwall Gallery.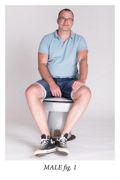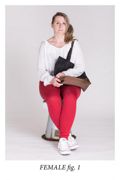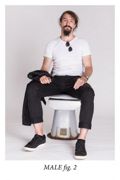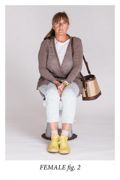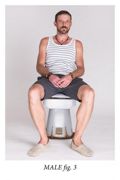 About the Artist:
Czech artist Michelle Adlerová, delves into various social themes, including changes in gender identity and gender roles. Adlerová originally worked under the name Michal Šiml (until 2011) and later appeared as Michelle Siml. In her work done within the art group Pode Bal, she dedicated herself to political themes.
Curators:
Lenka Kukurová, Zuzana Štefková
Photo of the exhibition at Artwall:
Martin Micka
Main partner of this exhibition was Prague Pride Festival.
See more at
www.artwallgallery.cz
---
Alma Lily Rayner - Some Things My Father Put Inside My Vagina
The exhibition consists of a series 3D object based on real-life objects, photographs and memories of the artist and activist Alma Lily Rayner . Displayed items refer to the long-term sexual abuse, which the author experienced in childhood. Within Czech public space, this type of personal confession appears for the first time.
More than 50% of the population in Czech Republic are women. Ask each and she could tell you about the time she was either sexually discriminated, harassed, assaulted or abused. Maybe it was by a family member, a partner, a friend, a teacher, a colleague or, more rarely, by a stranger. Maybe it happened once and maybe it went on for years. However, you probably never asked and even if you did, she probably wouldn't tell. After all, she is smart enough to know that by coming out she would be stigmatized, victimized and likely be blamed. In any case, she already has so many gender-based struggles ahead of her, why make it worse?
So, we keep silent, being the civilized bystanders that we are. We convince ourselves that sexual violence is about sex- a private issue rather than a sociopolitical phenomenon, blossoming in partially hidden patriarchal structures. And so, it goes on, from one generation to another, like a vicious circle.
The exhibition was accompanied by a series of public discussions on rape culture entitled "Why me?", held at tranzitdisplay, Dittrichova 9, Prague 2. The project aimed to interrupt this vicious circle. It strived to create a public platform that enabled to speak openly about this rape culture.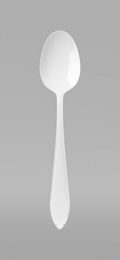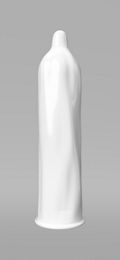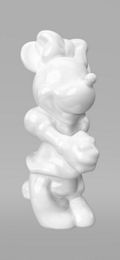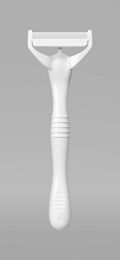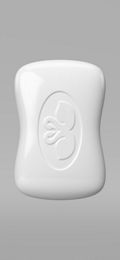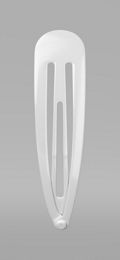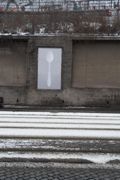 Curator:
Zuzana Štefková
About the Artist:
www.almalilyrayner.com
Photo of the exhibition at Artwall:
Martin Micka
See more at
www.artwallgallery.cz
---
Collective Homelike - Superheroines without Home
Women without homes are the invisible superheroines of our time. Often they are seen through the prism of what they lack – i.e. a home. But they are women with a life story and some incredible experience, dreams, desires and skills. To survive homelessness demands a fair share of special powers.
In the summer of 2014 collective Homelike organised an event called
Superheroines without Home
, where homeless women presented their skills and it made them very happy. Later on during various events and workshops – also in cooperation with comic artist Toy_box – they represented and expressed the empowering identity of a superheroine – woman without a home.
This project gives a voice to people from the street and leaves aside the idea of art as an elite language accessible only to the privileged few.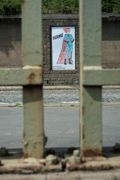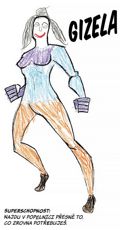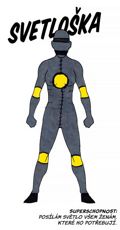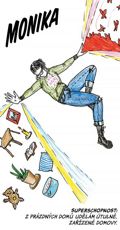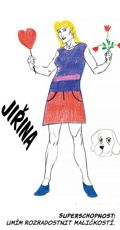 About Homelike
Homelike collective is an NGO striving to instigate a change of the perception of homelessness, pointing out its gender dimension and advising women without homes. In spite of the fact that women are more than men endangered by poverty and therefore a loss of home, the women's homelessness is not that visible and only a very little discussed phenomenon.
http://jakodoma.org/
Curators:
Lenka Kukurová, Zuzana Štefková
Photo of the exhibition at Artwall:
Martin Micka
See more at
www.artwallgallery.cz
---
Kundy Crew - She should not Have Been Provoking
Exhibition of the Slovak feminist activist art group Kundy Crew has the form of monumental reproductions of embroidered slogans placed in a public space. Members of the group use the traditional technique in order to comment on current social issues: the role of women in society, homophobia, nationalism, or the right of women to revolt. The exhibition's title ironically refers to the concept of "well-deserved" punishment for all women who dare to step out of the line.
Banal sayings are transformed into provocative statements like "I fight as a girl!" "Mother is only one. Or sometimes two!" "Women Have Balls" "Walrus is More Than a Nation" "Christ was Born and had Two Fathers" "Only Dead Fish Swims with the Stream" These simple sentences are aimed to challenge preconceived truths and to disrupt stereotypes.
The artists comment on the chosen technique: "We liked the contrast between the precise technique which requires patience and the angry sentences that demanded more than just to be written down on paper. Embroidery was in the past purely feminine activity. On the one hand it symbolized the isolation of women in the household, but at the same time for a woman it was one of the few acceptable means of expression. The tearing out of this technique from the "sanctuary" of the household and its placement in the public sphere makes us rethink attitudes to the issues at stake. Cross stitch – as a medium which evokes conservatism – now becomes the bearer of the radical message and helps to create new "traditions" that are not based on prejudice and stereotypes."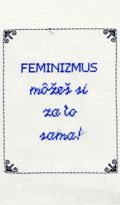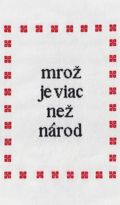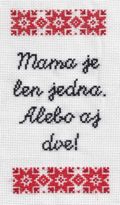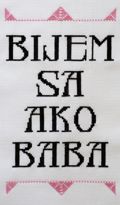 Curators:
Lenka Kukurová, Zuzana Štefková
Photo of the exhibition at Artwall:
Martin Micka
See more at
www.artwallgallery.cz
---
Jana Štěpánová - Immaculate Conception
The title of Jana Štěpánová's exhibition recalls the Catholic dogma of the Immaculate Conception of the Virgin Mary officially announced by Pope Pius IX in 1854. This dogma does not refer to, as it might seem, the notion that Mary conceived immaculately, but confirms the belief that she herself was immaculately conceived. Her body is then, by means of the papal bull, construed as sinless and pure. In contrast, the lesbian mothers in the photographs of Jana Štěpánová are construed as subjects that are, from the viewpoint of contemporary Czech legislation, somewhat problematic. According to the law on registered partnership, same sex pairs in the Czech Republic should not raise children. The current law even bans gays and lesbians from adopting children, but does not take into account that lesbians can utilize their natural ability to bring a child into the world – whether with the help of ART or on the basis of an agreement, for example with a friend.
The photographic cycle emphasizes the possibility of alternatives to the so-called nuclear family. The concept of family is changeable and every society understands it differently. What distinguishes a good family from a bad one is not the number of mothers and fathers, but how well the relationships between those who create the family function.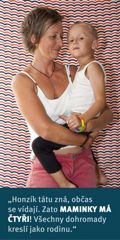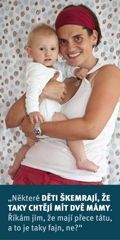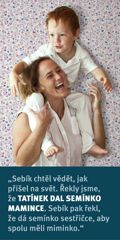 Curators:
Markéta Dolejšová, Lenka Kukurová, Petr Motyčka, Zuzana Štefková
Photo of the exhibition at Artwall:
Martin Micka
See more at
www.artwallgallery.cz
---